Game Description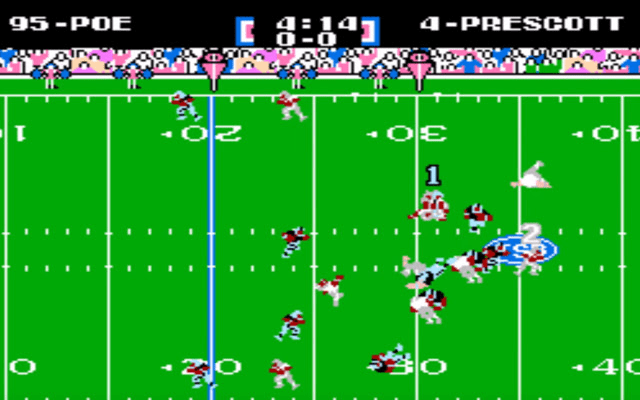 Tecmo Bowl is an iconic sports game that was first released in the late 1980s. It offers a simplified yet engaging football experience, allowing players to enjoy fast-paced gridiron action with teams representing major U.S. cities.
Game Controls
Mastering the controls in Tecmo Bowl is essential to achieve victory on the virtual gridiron. Here are the primary controls:
Directional Pad (D-Pad): Use the D-pad to control the movement of your players.
A Button: The A button is used for selecting plays, hiking the ball, and making tackles.
B Button: The B button is used for passing the ball.
How to Play Tecmo Bowl?
Select Your Team: Begin by choosing your favorite team from among the available options, each with its unique strengths and weaknesses.
Play Selection: Select your offensive and defensive plays to outwit your opponent. On offense, you can choose from running or passing plays, while on defense, you aim to predict the opponent's strategy.
Execute Plays: Once the play begins, control the ball carrier and navigate through the opposition's defense. On defense, tackle the ball carrier to stop their progress.
Score Touchdowns: Your objective on offense is to cross the opponent's goal line to score touchdowns. On defense, prevent the opposing team from doing the same.
Advance in the Tournament: Compete in a tournament-style format, striving to become the Tecmo Bowl champion.
Tips and Tricks
Learn Playbooks: Understanding the strengths and weaknesses of different plays is crucial.
Timing Matters: In both offense and defense, the timing of your actions, such as tackling or passing, can make all the difference.
Utilize Star Players: Each team has star players; make the most of their unique abilities.
Study Opponents: Pay attention to your opponents' strategies and adapt your own gameplay accordingly.
Game Developer
Tecmo Bowl was developed and published by Tecmo, a Japanese video game company. It was created by Shinichiro Tomie and became one of the company's most iconic titles.
Game Platforms
Tecmo Bowl was originally released for the Nintendo Entertainment System (NES), which is a classic gaming console. As of my last knowledge update in January 2022, there were no official mobile apps for iOS or Android platforms for this game. It is primarily a retro console game, and the best way to experience it is on the original NES hardware or through NES emulators available on various platforms. Please note that the availability of games and emulators may have changed since that time, so it's a good idea to check for any updates or new releases on app stores or online gaming platforms.
How to Play Unblocked
Given that Tecmo Bowl is an older console game, there is no issue of it being blocked online. To enjoy this classic, you would typically need the original NES console and the game cartridge. Alternatively, you can use NES emulators on your computer to play the game legally.
Conclusion
Tecmo Bowl stands as a timeless classic in the world of video games, especially for those with a fondness for both retro gaming and American football. Developed by Tecmo, this game has left an indelible mark on the gaming industry and remains a cherished part of many gamers' memories.
With its straightforward controls and fast-paced gameplay, Tecmo Bowl offers an accessible yet highly enjoyable football experience. Choosing from the iconic teams and competing in the tournament format is a source of endless nostalgia and joy for fans.
While there may not be dedicated mobile apps for iOS and Android platforms, the game's true home is on the original NES hardware and through NES emulators, allowing players to relive those thrilling moments from the past.
Whether you're dodging defenders, making daring passes, or striving to become the Tecmo Bowl champion, this game has cemented itself as a classic in the annals of video game history. It's a reminder of the enduring appeal of retro gaming and the special place that games like Tecmo Bowl hold in the hearts of gamers of all ages.