Game Description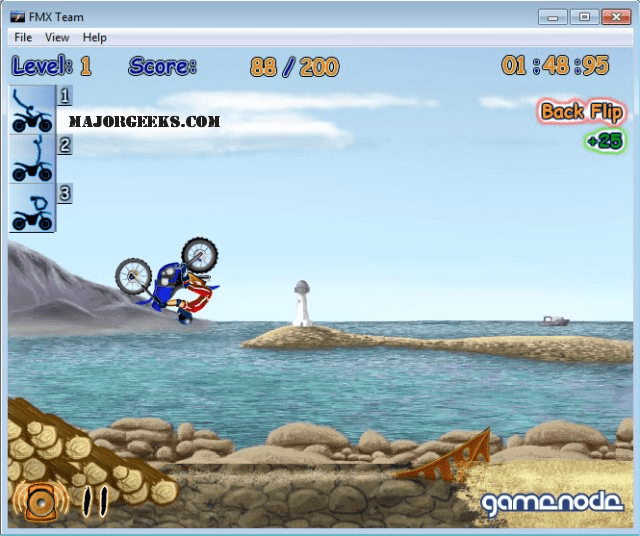 FMX Team is an exhilarating online motocross game that provides players with the opportunity to perform gravity-defying stunts and race through challenging courses. In this article, we'll explore the game's description, controls, gameplay, tips and tricks, information about its developer, available platforms, and how to play it unblocked.
FMX Team is an action-packed motocross game that immerses players in the world of extreme sports. As a motocross rider, you're tasked with completing a series of challenging courses while performing jaw-dropping stunts and tricks. The game combines fast-paced racing with the thrill of acrobatics, making it a captivating and addictive gaming experience.
Game Controls
Mastering the controls in FMX Team is essential for executing impressive stunts and navigating the challenging tracks. Here are the primary controls:
Up Arrow Key: Accelerate your motocross bike.
Down Arrow Key: Apply the brakes or reverse.
Left Arrow Key: Lean your rider backward.
Right Arrow Key: Lean your rider forward.
1, 2, and 3 Keys: Perform stunts and tricks during jumps.
How to Play FMX Team?
Course Selection: Choose a course or level to play. Each course presents unique challenges and obstacles.
Race and Stunts: Use the arrow keys to control your motocross bike. Accelerate to reach high speeds and use the arrow keys to maintain balance in the air. To perform stunts, use the number keys (1, 2, and 3) during jumps.
Stunt Points: Performing stunts earns you points. The more complex and daring the stunt, the higher the points.
Time Management: Complete the course within the given time limit. Time management is crucial to success.
Balancing Act: Balance your rider to avoid crashing or falling off the bike, especially during landings.
Level Progression: Successfully completing levels unlocks new challenges and courses.
Tips and Tricks
Start with simpler stunts before attempting more complex ones to avoid crashes.
Use the brakes and reverse strategically to maintain control on tricky sections of the track.
Time your stunts carefully to maximize points without risking a crash.
Pay attention to the time limit; balance speed with precision to complete levels efficiently.
Practice and repetition are key to mastering the game's controls and improving your performance.
Game Developer
FMX Team was developed by IriySoft, a game development company known for creating a variety of online games that feature engaging and challenging gameplay experiences.
Game Platforms
FMX Team is an online Flash game, and it's primarily played through web browsers on platforms like Windows, macOS, and Linux. As of my last knowledge update in September 2021, it wasn't officially available on dedicated mobile platforms such as iOS or Android. However, there may be unofficial adaptations or emulations of the game available on mobile devices through third-party apps or websites, though these may not be endorsed by the original developer. Please check the latest sources for any updates regarding mobile availability.
How to Play Unblocked
To play FMX Team unblocked, you can search for websites that host the game and offer it in an unblocked format. However, since Flash support has dwindled, you may need to use Flash emulation tools or third-party platforms that provide access to older Flash-based games.
Conclusion
FMX Team is a heart-pounding motocross game that offers players an exciting mix of high-speed racing and gravity-defying stunts. Developed by IriySoft, this online Flash game challenges players to conquer a variety of courses while performing daring tricks to earn points. With its engaging gameplay and a focus on precision and balance, FMX Team is a thrilling choice for both motocross enthusiasts and casual gamers.
While the game was originally designed for web browsers on platforms like Windows, macOS, and Linux, it's important to note that it may not be readily available on modern mobile platforms such as iOS or Android. However, resourceful players may find unofficial adaptations or emulations to enjoy the game on mobile devices.
So, whether you're looking for a quick adrenaline rush or a chance to showcase your stunt-performing skills, FMX Team delivers an exhilarating motocross adventure. Gear up, rev your engines, and prepare to soar through the air while executing jaw-dropping stunts in this action-packed gaming experience.