Game Description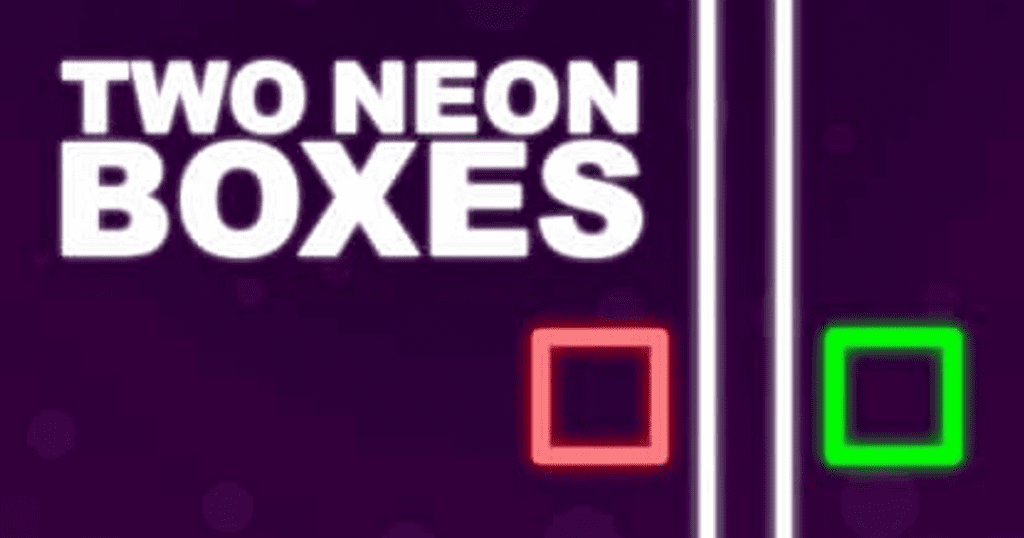 Two Neon Boxes is a minimalist yet captivating puzzle game that presents players with a simple objective: guide two neon-colored boxes to their respective destinations. The challenge lies in navigating through increasingly complex mazes while overcoming obstacles and traps. With its sleek design and mind-bending puzzles, this game is perfect for those who enjoy brain-teasers and problem-solving.
Game Controls
Mastering the controls in Two Neon Boxes is essential for successfully maneuvering the neon boxes through the intricate mazes. Here are the primary controls:
Arrow Keys: Use the arrow keys to move the neon boxes up, down, left, and right.
How to Play Two Neon Boxes?
Objective: Your goal is to guide both neon boxes to their corresponding destinations, which are usually marked by squares of the same color.
Movement: Use the arrow keys to move the boxes. Be cautious; they move simultaneously, and the challenge is to coordinate their movements effectively.
Obstacles: The game features various obstacles, such as walls, switches, and barriers. You must strategically navigate around these obstacles to reach the destination.
Switches: Some levels include switches that can open doors or manipulate barriers. Position the neon boxes on the switches to activate them.
Logic and Coordination: Plan your moves carefully, as the game relies on logic and coordination to solve each puzzle.
Progression: As you advance, the puzzles become increasingly complex and require more thoughtful solutions.
Tips and Tricks
Plan your moves ahead of time to ensure that both boxes reach their destinations.
Pay attention to switches and how they affect the environment. Proper use of switches is key to solving more intricate puzzles.
Be patient and methodical. Rushing can lead to mistakes and failed attempts.
Don't be afraid to experiment and try different strategies when faced with challenging levels.
If you get stuck on a level, take a break and return to it with fresh eyes. Sometimes, a new perspective can lead to a breakthrough.
Game Developer
Two Neon Boxes was created by a team of independent game developers who specialize in crafting intellectually stimulating and visually appealing puzzle and strategy games. While the developer may not be widely recognized in the gaming industry, their focus on delivering challenging and engaging gameplay experiences is evident in their work. This game, in particular, showcases their talent for designing mind-bending puzzles that captivate players with their simplicity and complexity.
Game Platforms
Two Neon Boxes is primarily available as a browser-based game and can be played on various websites that host puzzle games. As of my last knowledge update in September 2021, it might not have official versions on mobile platforms like iOS or Android. However, players may find unofficial adaptations or similar puzzle games available for download on the App Store for iOS and the Google Play Store for Android devices. Please check these platforms for the most up-to-date availability of the game.
How to Play Unblocked
To play Two Neon Boxes unblocked, you can search for websites that host the game and offer it without restrictions. These websites often provide a version of the game that can be played without any access limitations. Be cautious when downloading games from unofficial sources to ensure your device's security.
Conclusion
Two Neon Boxes offers a captivating and intellectually stimulating puzzle-solving experience that challenges players to navigate neon boxes through increasingly complex mazes. With intuitive controls and progressively challenging levels, the game provides a rewarding sense of achievement as you conquer mind-bending puzzles.
This minimalist yet engaging game is perfect for those who relish brain-teasers and problem-solving. Whether you're an experienced puzzle enthusiast or simply looking for a mental workout, Two Neon Boxes delivers a satisfying challenge. So, prepare to engage your mind, strategize your moves, and immerse yourself in the world of neon-colored puzzles.