Game Description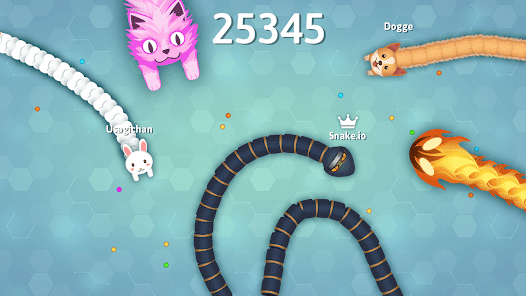 Snake.io takes the classic snake game to a whole new level by offering a vibrant and multiplayer experience. In this game, you control a colorful it with one simple objective: grow longer by eating glowing dots and outmaneuvering other its. Be cautious, though, as other players aim to do the same, and a collision means the end of your it's journey. Your goal is to become the longest and most dominant it in the arena.
Game Controls
Mastering the controls in the game is key to your success in the game. Here are the primary controls:
Touchscreen: Swipe your finger on the screen to guide your it in the desired direction.
Boost: Use a boost button to increase your it"s speed temporarily.
How to Play Snake.io?
Survival and Growth: Begin the game as a small it. Your aim is to grow by consuming the glowing dots scattered throughout the play area. The more you eat, the longer your it becomes.
Avoid Collisions: Be vigilant and avoid running into other snakes, including your own. Collisions result in your it's elimination, and you'll leave behind a trail of glowing dots for other players to consume.
Strategic Boost: Use the boost button to accelerate and escape from dangerous situations or chase down smaller it. Be cautious, though, as boosting reduces your it's length.
Arena Dominance: As your snake grows, your goal is to become the longest snake in the arena. Outmaneuver and encircle other snakes to eliminate them and consume their remains, further increasing your length.
Leaderboard: Keep an eye on the leaderboard to see your ranking and track your progress compared to other players in real-time.
Tips and Tricks
Avoid the Edges: Staying away from the edges of the play area reduces the risk of being cornered by other it.
Cut Off Opponents: Trap smaller it by encircling them, forcing them into a tight spot where they cannot escape.
Use Boost Wisely: Only use the boost when necessary, as it reduces your it's length and can make you vulnerable.
Mind Your Tail: Be cautious of your own tail, as running into it results in elimination. Plan your movements accordingly.
Compete for Food: Go after the glowing dots when they appear, but be prepared to face competition from other snakes.
Game Developer
The game was developed by the game development company Kooapps. Kooapps specializes in creating casual and competitive multiplayer mobile games that are accessible to players of all ages.
Game Platforms
Snake.io is available for both iOS and Android platforms, making it accessible to a wide range of mobile gamers. You can download it from the Apple App Store for iOS devices and the Google Play Store for Android devices, ensuring that players with different mobile devices can enjoy the game's multiplayer snake experience.
How to Play Unblocked
The game is a mobile game that is typically played directly through app stores on iOS and Android devices. As such, it is generally not subject to being blocked. However, ensure you download the game from official and reputable sources to avoid potential security risks associated with unofficial app sources.
Conclusion
Snake.io offers an engaging and competitive multiplayer snake gaming experience that successfully modernizes the classic snake game concept. With its intuitive controls, colorful graphics, and real-time competition, it provides an enjoyable and accessible mobile gaming experience. Whether you seek to climb the leaderboards or simply enjoy casual gaming on the go, the game delivers a satisfying and addictive adventure suitable for players of all backgrounds. So, dive into the arena, strategize your moves, and strive for snake dominance in this exciting twist on a beloved classic.