Game Description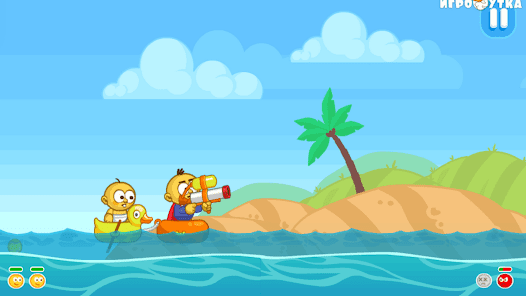 Raft Wars 2 is the sequel to the popular Raft Wars series, where players take on the roles of two brothers defending their treasure from a water park takeover. Armed with tennis balls, players must aim, shoot, and strategize their way through a variety of challenging and entertaining levels. The game combines elements of physics, strategy, and humor for an unforgettable gaming experience.
Game Controls
Mastering the controls in Raft Wars 2 is crucial for success. Here are the primary controls:
Mouse: Use your mouse to aim and control the power of your shots. Click to fire tennis balls and make strategic moves.
How to Play Raft Wars 2?
Treasure Defense: You and your brother are on a mission to protect your treasure from enemies trying to seize it. Aim your tennis balls and use a variety of weapons to thwart their advances.
Turn-Based Battles: The game follows a turn-based battle system. You take turns with your opponents to fire projectiles at each other.
Collect Coins: As you progress, you can collect coins and level up to gain new weapons and abilities, enhancing your chances of success.
Challenging Levels: Each level presents new challenges and enemy tactics. Plan your shots carefully to overcome obstacles and defeat your foes.
Multiplayer Mode: Challenge a friend in multiplayer mode, adding an extra layer of fun and competition to the game.
Tips and Tricks
Aim Carefully: Precision is key. Take your time to aim accurately to maximize the impact of your shots.
Use Obstacles: Take advantage of the terrain and obstacles to protect yourself and launch surprise attacks.
Upgrade Wisely: Spend your hard-earned coins on meaningful upgrades and new weapons that suit your playstyle.
Multiplayer Strategy: In multiplayer mode, outsmart your opponent with unpredictable moves and well-planned shots.
Game Developer
Raft Wars 2 is developed by Martijn Kunst, a game developer known for creating a variety of fun and engaging online games. His work often combines humor and strategy to provide players with unique and enjoyable gaming experiences.
Game Platforms
Raft Wars 2 is primarily available on online gaming websites and can be played directly in web browsers on desktop computers and laptops. This accessibility ensures that the game can be enjoyed by a wide audience without the need for specific installations or downloads.
How to Play Unblocked
Accessing Raft Wars 2 unblocked is generally straightforward, as it's a family-friendly and widely recognized game. If you encounter any issues accessing it, here are some general steps to ensure unblocked gameplay:
Official Game Websites: Visit the official Raft Wars 2 website or authorized online gaming platforms. These sources typically provide a secure and unblocked gaming experience.
Browser Compatibility: If you encounter access issues with one web browser, try another. Some games and websites may work better on specific browsers, so switching to an alternative browser could resolve access problems.
Network Restrictions: If you're playing at school or work, be aware that network restrictions may be in place. In such cases, contact your network administrator or IT department to request access or inquire about any restrictions.
Contact Game Support: If you're still experiencing access problems, consider reaching out to the game's support team or visiting community forums to seek assistance from other players who may have encountered similar issues.
Conclusion
Raft Wars 2 delivers an entertaining and strategic gaming experience that combines hilarious scenarios with challenging battles. As you defend your treasure with tennis balls and creative tactics, the game invites players of all ages to engage in thrilling water park mayhem. With its comical storyline, turn-based battles, and the option to challenge friends in multiplayer mode, it's a game that offers endless amusement. So, prepare to aim, shoot, and strategize your way through a world of water park mayhem and treasure defense in Raft Wars 2!