Game Description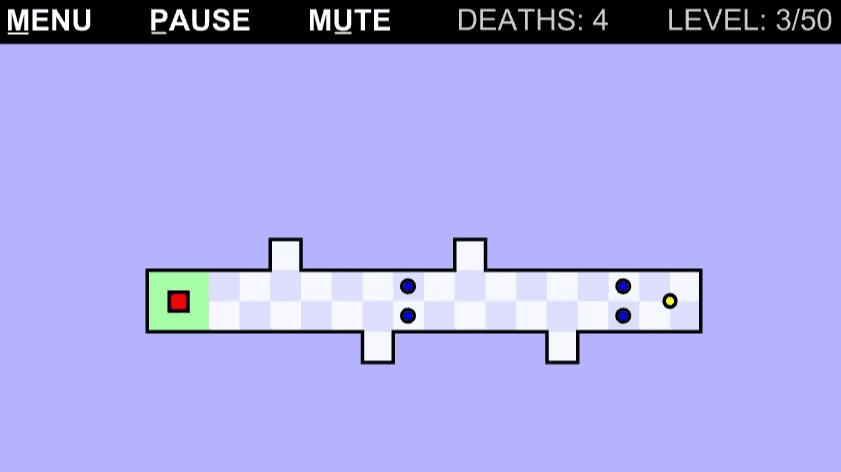 World's Hardest Game is a puzzle and skill-based game that presents players with a series of increasingly difficult levels. The objective is deceptively simple: guide a red square through a maze while avoiding blue circles and collecting yellow coins. However, the game's difficulty arises from the complex patterns, timing, and precision required to succeed. It's a true test of skill, strategy, and patience.
Game Controls
Mastering the controls in World's Hardest Game is crucial for navigating the challenging levels. Here are the primary controls:
Arrow Keys: Use the arrow keys on your keyboard to move the red square in different directions.
How to Play World's Hardest Game?
Navigate the Maze: Your goal is to guide the red square through each level's maze while collecting all yellow coins.
Avoid Blue Circles: Be careful to avoid touching the moving blue circles, as they serve as obstacles that will send you back to the beginning of the level.
Strategic Moves: Plan your movements carefully, as timing and precision are vital for success.
Progression: As you advance, the levels become increasingly challenging, introducing new obstacles and more complex patterns.
Patience: Persistence and patience are key to overcoming the game's high difficulty.
Tips and Tricks
Plan Your Moves: Take a moment to assess each level and plan your moves to avoid blue circles and collect coins effectively.
Timing is Everything: Many levels require precise timing. Be patient and wait for the right moment to make your move.
Learn from Mistakes: Don't get discouraged by failures. Each attempt is a chance to learn from your mistakes and improve your strategy.
Take Breaks: If a level becomes frustrating, take short breaks to clear your mind. Returning with a fresh perspective can be helpful.
Game Developer
World's Hardest Game was developed by Stephen Critoph. He is known for creating challenging and mind-bending games that test players' problem-solving skills and reflexes.
Game Platforms
World's Hardest Game is primarily a web-based game and does not have dedicated mobile apps for iOS or Android platforms. Players can enjoy the game in their web browsers on various devices, including desktop computers, laptops, and some mobile devices. This browser-based accessibility ensures that the game can be played on a wide range of platforms without the need for specific mobile applications.
How to Play Unblocked
Playing World's Hardest Game unblocked is straightforward since it's a browser-based game. If you encounter any issues accessing it, here's a general guide on how to play it unblocked:
Official Website: Visit the official World's Hardest Game website. This is typically the most reliable source for unblocked gameplay.
Reputable Gaming Websites: Some reputable gaming websites and platforms host a variety of web-based games, including World's Hardest Game. Visit these platforms to play unblocked.
Browser Compatibility: If you experience issues on one web browser, try another. Some games and websites may work better on specific browsers, and switching to an alternative browser could resolve access problems.
VPN Services: Consider using a Virtual Private Network (VPN) to bypass potential network restrictions or region-based blocks. A VPN can change your IP address and make it appear as if you're accessing the game from a different location.
Contact Game Support: If you're still experiencing access problems, reach out to the game's support team or visit community forums to seek assistance from other players who might have encountered similar issues.
Conclusion
World's Hardest Game lives up to its reputation by providing a challenging and often maddening gameplay experience. With its mind-bending puzzles, complex patterns, and precise timing requirements, it tests players' skills and patience. Whether you're determined to conquer its levels or seeking a test of your problem-solving abilities, World's Hardest Game provides a unique and difficult gaming experience. So, dive into the challenge, navigate the mazes, and prove your skills in this ultimate test of gaming prowess.